Are you interested in Yoga? Want to know more?
This course will teach you the basics of Hatha yoga in a welcoming, warm and cosy dedicated yoga studio. We totally understand that walking into the unknown can be daunting but we promise you that you will walk out taller, calmer and energised.
Yoga is a journey of getting to know youself, it starts as a weekly class and then infuses into our daily life and helps us navigate the ups and downs of life.
The ingredients needed for a yoga practise are;
Our body – where it is right now, maybe achy or stiff, this is our starting point to move, stretch and strengthen.
Our mind – cultivating our awareness of how we move our body and our thoughts and reactions.
Our breath – our gauge on how we are emotionally and physically and is a tool to calm and centre us and to focus on.
An openness to moving beyond our comfort zone
We mix these all up together and get a deeper understanding of ourselves and tools to improve our health and wellbeing on all levels.
You will experience Asana – body movements, Pranayama – breathing practices and Yoga Nidra – a delicious deep relaxation practice.
You don't have to wear any special clothing, layers are good and being comfortable with freedom to move.
We do have equipment in the studio but due to hygiene reasons we do require that you have your own mat, blanket and cushion.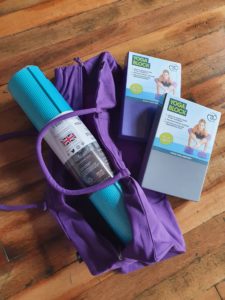 We have a wide selection of equipment and we are offering a 10% to the yoga basics participants on all our stock
High Quality Mats £20 with discount £18
Equipment bag £20 with discount £18
Blocks £6 each with discount £5.40
plus more in the studio
There's no better time than now!! Please get in contact with Bridget for more information or to book your place.