Angela and Bridget invite you to join them on this yoga retreat in the beautiful Yorkshire dales. This is an opportunity to dive deeper into yoga and discover some of the lesser known practices and philosophy. There will be periods of silence allowing you to let all the practices filter into your being.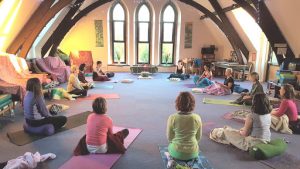 Our retreat starts on Friday with a gentle Hatha class to ground and allow you to arrive.
Julie from Rocket catering will be providing delicious, bountiful and nourishing food for the weekend.  We will also practice karma yoga (selfless service) clearing up after ourselves and helping with some of the food preparation.
Saturday and Sunday will begin at 7am with Hatha Yoga, all the sessions are optional but we encourage making the most of all that is being offered.

There will be time for walking & exploring the area or resting or connecting with the other participants or reading and many moments of joy and laughter.
At Beamsley Project, Bolton Abbey, North Yorkshire,BD23 6JA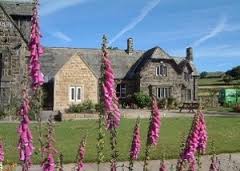 Beamsley Project is a beautifully converted Methodist church in the Yorkshire Dales, near Skipton.  It is a independent charity organisation that provides accessible accommodation for individuals with disabilities, their families and groups with disabilities. By using the venue we support the charity.
Accommodation – is shared either in twin or triple rooms with shared bathrooms (there are loads, so you won't be crossing your legs)
Food & drinks – the meals are freshly cooked vegetarian and there is a selection of teas and coffee for you to help yourself.  Fruit and snacks are available all the time. 
From:
Friday 8th October  (arrivals from 4pm) Starts at 5pm
To:
Sunday 10th October  (departure 3pm)